In collaboration with the Danish feed company Vilofoss, SimHerd has developed a new Flex-calculator. After entering a few key figures from your herd, the calculator clearly shows the effect X-Zelit has regarding economics as well as, health, performance and the number of treatments.
X-Zelit is a feed additive that binds calcium, which stimulates the cow to mobilize her own calcium reserves. This is shown to be an effective way to decrease milk fever and improve the health of fresh dairy cows.
The new SimHerd Flex tool helps you see the benefit of X-Zelit in your herd. As no two farms are exactly alike, general calculations and recommendations are not always accurate. The use of X-Zelit is no exception. Therefore, the calculator makes it easier for you to figure out exactly what you are getting out of using X-Zelit on your farm.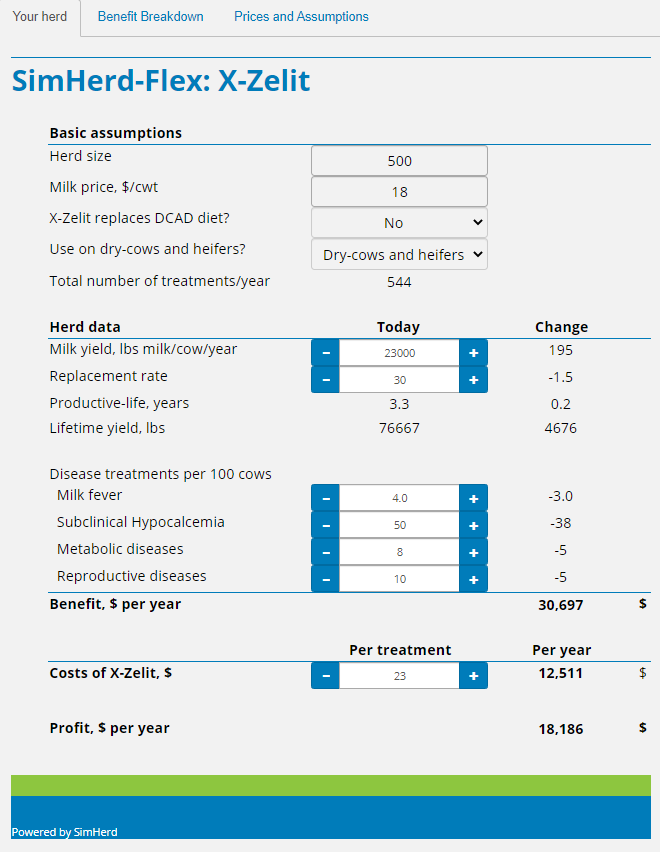 The output is based on your input
You enter key figures from your farm into the calculator (eg number of cows, milk price, how many cases of milk fever and subclinical hypocalcaemia) and immediately you can see the additional value that you could obtain with X-Zelit. Try it here.
SimHerd offers economic analyzes for cattle herds through proven and used methods. All calculations are based on valid scientific documentation, ensuring unbiased calculations. A SimHerd Flex calculator can calculate the value of everything, from feed additives such as X-zelit, to sensor technology, vaccines and climate impact.