We help farm advisors and veterinarians optimize dairy farmers management and profit. By using a SimHerd calculation, the farmer is guaranteed qualified advisory, that clearly shows the effects of the suggested management changes or health improvements, based on the most recent research. The calculations make it easy for the farmer to see the effect of the potential actions on the herd dynamics and economics over the next 10 years. All our calculations are herd specific and based on the farmers own herd data. In the following you can read more about our products, history and the team behind SimHerd.
The full SimHerd model – SimHerd Expert has continuously been developed at Aarhus university in Denmark since 1992. Through the years more and more elements of the dairy herd have been added to model, making it one of the most comprehensive models in the dairy cattle sector. In 2010 the model was commercialized, and since then breeding advisors and vets have started to use SimHerd Expert as an active part of their advisory in Denmark, Sweden and Finland.
"Our mission is to create value for farmers, by delivering credible, science-based calculations that create significant improvements for both animal welfare and herd profit".
SimHerd gives you the advantage, that all calculations are based on herd specific data, making it recognizable and relatable for the farmer. The model runs a simulation of each cow in the herd over a 10-year period. In the simulation associations between production, health and reproduction are all considered. This makes it simple to advise on how small and large changes at a cow-level will affect the whole herd. Most importantly, it is also easy for the farmer to see the effect of the proposed changes.
The calculations can also be used to help negotiate with the bank if for example the farmer wishes to invest in new technology or improve dry cow facilities. With a SimHerd investment analysis the bank has herd specific documentation of the consequences that improvements or investments would make on a given herd. This makes decision making easier for the banks.
"SimHerd calculations have been the basis for decision when I have considered new investments or management changes in my herd. They have also been a good support for me with my financial partners".

– Jacob Seiger Stensig, 585 cows, Holstebro, Denmark
Who are we?
Since 2010 we have helped farm advisors and veterinarians to advise dairy farmers on how to optimize their dairy herds. Our model can calculate the effects of any challenges the farmer is currently facing which makes it easy to make clear recommendations. A SimHerd calculation makes it clear which advantages and disadvantages different solutions represent regarding herd dynamics and animal welfare as well as herd profit. A large range of different scenarios can be calculated; from improved hoof health, new breeding strategy to larger facility investments. For all calculations, the end result is not only shown as herd profit, but the climate impact of the solution is also quantified.
We want to be the preferred decision support tool for farm advisors and veterinarians.
Transparency and credibility is what we strive towards in our daily work and all the products that we provide. We also keep our word and keep an open and honest dialogue with our customers and users.
We are experts in our area, so you are guaranteed a qualified answer to any questions you might have. Our products are developed at Aarhus University, so they are continuously updated with the newest research, like our employees that are all specialists within the field always aspire to be part of several research projects to stay in touch with recent developments and new knowledge.
The following values define our work
Credibility
We always stick to our word and fulfill all our commitments. We are always credible, transparent with each other, our partners, and customers.
Knowledge-based
It is very important for us that our customers are always ensured the best advice and service. Therefore, it is essential for us that our advice comes from the newest research within our area, and that we maintain a good connection to practice.
Personal
We are more than just our products – we are a team of specialized dairy nerds, that take pride in knowing all our customers. For us service and support of our customers is always our first priority.
Our story
The SimHerd model has been developed at the Department of Animal Science at Aarhus University since 1992. During the years, professors, researchers, and Ph.D. students have continuously developed and expanded the model with new elements from their research. It started primarily based on animal health economics, but has later been developed to also integrate genetics, crossbreeding, climate impact and much more. Today the SimHerd Expert model is used as an advisory tool, but also to test scientific hypothesis in research projects and for education of vets, farmers, and herd advisors.
From 2007-2009 the two founders of the company, Søren Østergaard and Jehan Ettema worked towards commercializing the then computer-based SimHerd model, so advisors and vets from the whole world also could utilize the program. In cooperation with Strateko, Danish Cattle association and Aarhus university, they developed a user-friendly web based SimHerd solution. In 2009 the first version was launched and tested in practice by vets. This has developed into what we now call SimHerd Expert, and has become a great success amongst veterinarians and farm advisors in Europe. The newest development has been SimHerd Flex, which is a condensed version of the full SimHerd model, making it faster and easier to use.
In 2014 VikingDanmark, the largest Danish AI company, became the majority shareholder of SimHerd A/S. Today the ownership consists of VikingDanmark, Aarhus University, partner and CEO Søren Østergaard and Partner and Consultant Jehan Ettema.
Who uses SimHerd
?
Anyone who either directly or indirectly works in the dairy sector can use SimHerd. Depending on your need we have different solutions. SimHerd Expert is the full SimHerd model that can make calculations on all aspects of a dairy herd. SimHerd Flex is based on the full SimHerd model but is a condensed version, that focuses on a specific area or product. It is faster and easier to use than the full SimHerd model.
Veterinarians and farm advisors use SimHerd in their daily advisory and to calculate complex problems and strategies. It helps illustrate to the farmer, the full complexity and evaluate which solution is best. All calculations are based on the farmers own data, so all recommendations fit the current situation in the herd.
" The SimHerd model can be seen as a "What if…" game. A game that requires you can halve the cases of mastitis, improve hoof health, increase the number of calving's…… If this is accomplished, what would you make next year or in 10 years' time? Or said in other words: How much money can you invest in new bedding, disinfectants, vaccinations….."
Veterinary practice, Kronborg, Denmark
A Flex solution is often used by companies selling a specific product, or to show the effect of few management changes. We tailor an algorithm, that can be embedded in a homepage, an app or in a dashboard. The Flex algorithm can make the exact calculations you need. With the farmer, you can enter herd specific key figures and quickly show the effect of you r product or service, on the specific farm.
Lecturers and researchers at agricultural schools and universities also use the SimHerd model as part of the education of students. In the model it is possible for the students to test their hypothesis and see the impact of different solutions on a herd. This is a simple way of making complex problems more understandable for the students. We provide materials that aid the teacher, so it is easy to use the model in class.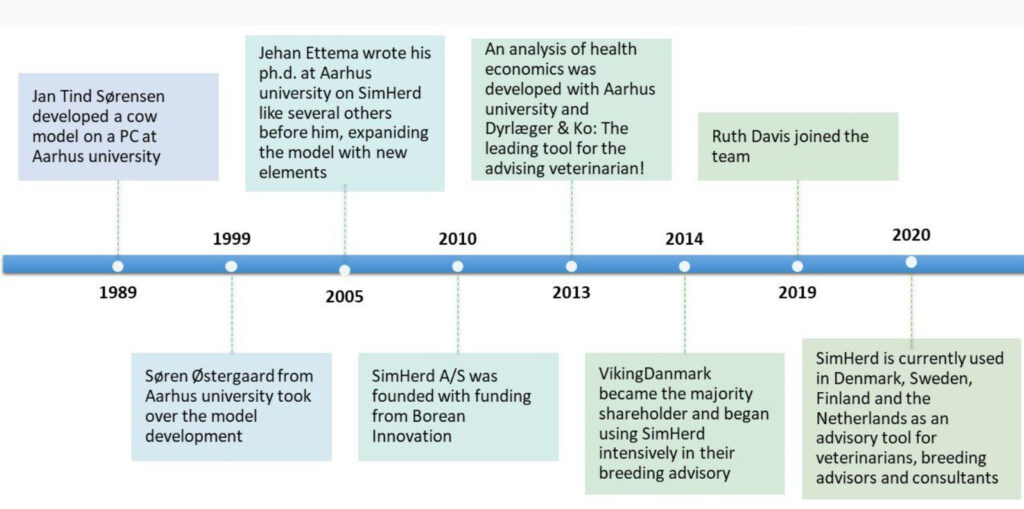 Collaboration partners
We have collaborations with farm advisors, veterinarians, schools and universities all over Europe. Read more about our collaboration partners here.